Don't take my word for it. Read all about what my past clients have to say about me and my services.
Jon & Lindsay 2018 | Wedding Planning
Best wedding planner EVER! I am still beaming from my wedding day and I have Samantha to thank for planning it all! My husband and I found Samantha online and took a chance on someone we had never met in person. It was the best choice we could have ever made! First, Samantha is super personable, down to earth, and organized. She was able to create a vision for our wedding and deliver. Second, she has the best taste! The vendors that she proposed to us were top quality and fit our vision for the wedding. Every vendor she introduced us to were friendly and amazing to work with. Our intention with hiring a wedding planer was to help me avoid becoming a bridezilla and to not sweat the small things. It worked! Whenever I had a question or needed to communicate with the vendors, Samantha was right there to help me. It was a dream come true! Our wedding was so well run! All of our guests said it was the best wedding they had ever been to. I can not recommend Samantha enough. She is worth every single penny and more!!!
Glen & Megan 2019 | Wedding Planning
Hands down the best coordinator. We absolutely loved working with Samantha! She communicates well, takes care of you and really brings your vision to life the day of your wedding! Our day went so smooth and that is thanks for Samantha and her team. She is so sweet and really stepped in and took care of so many things for us, especially in the couple weeks leading up to our wedding. Do yourself a favor and book Samantha for your day, you will not regret it!!!
keith & Aleecia 2018 | Wedding Photography
Samantha was amazing. She had such a beautiful vision for our wedding photos. She helped pose us while keeping it authentic and romantic. She's done all of our family photos and our engagement photos as well.
Patrick & Lucia 2017 | Wedding Planning
Words cannot explain how amazing my experience was with Samantha and her team. She seriously went above and beyond for us. There is no way I would have enjoyed the wedding day or would have been nearly prepared enough if it wasn't for Samantha. I even had red wine spilled on my wedding dress that she made disappear (no joke)! She helped with vendor recommendations, timelines, checklists, planning all of the teeny tiny details and making everything come together cohesively. Samantha and her team literally thought about every detail and even details I could not have even imagined. She gives her utmost attention to you and is so easy to work with. She made me feel very calm several times throughout the planning process when I felt like losing my mind. Not to mention I changed my mind a bunch, but Samantha was very patient and understanding every single time. Wedding planning is truly Samantha's passion and that is totally apparent when she plans yours. MME was probably the best investment I made in our wedding and would make the same decision a million times over. You would be making a mistake not going with Samantha as your planner! She's seriously the best!
Jason & Taryn 2017 | Wedding Planning
As a hands on, do-it-myself kind of girl, I have to say I was a little nervous letting someone take the reins on my big day. Ok, a LOT nervous! After all, I was the one that had done months of planning and knew exactly in my mind how everything was going to look and be set up. But then we met Samantha! For our first appointment, we met at our venue and went through initial high-level details. She took detailed notes and I felt like she was really engaged in our event. While we were there, we observed another couple meeting with their planner and my husband and I both agreed that their experience seemed so different. Ours was laid back and felt like we were just old friends conversing. Three hours and a wine tasting afternoon later, we actually did consider Samantha to be a friend! There was a great connection which was really important to us. Fast forward to the month leading up to our big day and this is where Samantha really stepped in and helped coordinate all the details with our vendors. I had several questions during this month and she never once made me feel like I was a nuisance. She was so helpful and was incredibly flexible with some last minute edits due to changes in our guest list. During our rehearsal, we quickly went through our decor and how we envisioned everything getting set up. Given how quickly we ran through this, most people would have had questions and/or wouldn't have followed our direction, but Samantha truly brought our wedding vision to life. During our photo session before the wedding, I asked our photographer if I could take a peek at everything (again, it's the hands on, hard-for-me-to-let-go personality I have). I was blown away at how perfect everything was! She really heard me and understood us. During our wedding ceremony and reception, she and her team were hardly noticeable. She just made things happen! Our wedding day was everything we could have dreamed of and more, and we have Samantha to thank for helping make it that way.
Scott & Ashley 2017 | Wedding Planning
Using Memory Making Events was one of the best decisions we made in planning our wedding. We used Samantha as a month of coordinator and getting to pass all of the planning off to her when we got down to crunch time was the most amazing feeling. She handled the timeline, coordination, layout and so much more. And this is all just before the event! When it came to the wedding day I received the sweetest text from her the morning of wishing me an amazing day and reassuring me that she had it all handled. Everything went perfectly and I can distinctly remember time and time again that I was blown away by the details she was handling that I would have never thought of throughout our wedding day. On top of perfect execution she was calm and collected the entire time. Exactly what you need from a wedding coordinator to make you feel amazing! I couldn't speak more highly of Samantha and her team.
Dwight & Lilie 2017 | Wedding Planning
Every bride wants to plan the perfect wedding – but there is nothing better than being able to ENJOY the day of your perfect wedding! In my opinion, the best thing to do to ensure that is: hire Samantha to be your wedding coordinator! Speaking as an out-of-state bride, planning was extremely stressful at times and Samantha was there to help me every step of the way. She was nothing short of amazing from our first email correspondence to the very end of our wedding weekend. Samantha was so easy to work with – warm and friendly, great at communicating and responding to my emails. From recommending vendors to taking care of all those last-minute details the day of, she really did it all for me! (Insider secret: she does florals too!) Before the wedding, she worked with all my other vendors, designed and sent out the timeline, and ensured that all of them were in the loop and ready to go for our big day. I gave her a few boxes of my DIY décor and described my ideas to her, and she took them and turned them into reality. She made sure that everything ran smoothly on the big day, even offered her own easels and made us signs for our wedding, and packed up all the décor at the end of the night so it was ready to go for us the next day! ***Our wedding day was nothing short of fantastic!!! I already had 110% confidence in Samantha, and everything exceeded our expectations!!! Our family and friends couldn't stop talking about how beautiful and well-executed everything was, and it was all thanks to Samantha and her assistant Tori!!! Thank you so much!!!***
Matthew & Camelia 2017 | Wedding Planning
Not sure if you want to get a wedding coordinator? Trust me, just get one and you will actually be able to enjoy your wedding - but make sure you get Samantha! We did the month of package and she was absolutely amazing months before leading up to the date. I am a detailed-oriented type of planner myself and I was stressing myself out with so many questions, logistics, etc. and Samantha always answers and addresses all my concerns in such a timely manner! She helped put me at ease and always manages to find different alternate options or recommendations for anything and everything. I was working with a more difficult venue (non-responsive and more disorganized) but Samantha managed to get answers, even did a on-site visit to ensure she had the correct measurements, and got on good terms with them to ensure everything ran smoothly the day of! She got in touch with all my other vendors to make sure the timeline was all good to go and I had no issues whatsoever with any of them. Samantha offers amazing decor recommendations and always offers to go out of her way to set things up or go the extra mile to do something. I was stuck on some design/decorating ideas and she immediately found a few items on amazon and sent them right over and also offered to bring her own cake stands or easles. She even cut some greenery from her own yard and brought them so my light/greenery round installation would work out and I would save some money from florals! The day of, the wedding ran extremely smoothly - literally nothing really went wrong! So many people complemented how beautiful it all turned out and how smoothly and well-executed everything was and we definitely couldn't have done it without Samantha and her awesome team. Best of all, they were ninjas afterwards and packed everything back up into its original boxes. Her sweet and calm demeanor is perfect to have around - she takes care of business but does it all with a smile! Thank you for everything!
What other vendors, blogs and the community is saying about Samantha Josette
Featured Intimate Edna Valley CA (Styled Wedding)
Boho Big Sur Wedding (real wedding)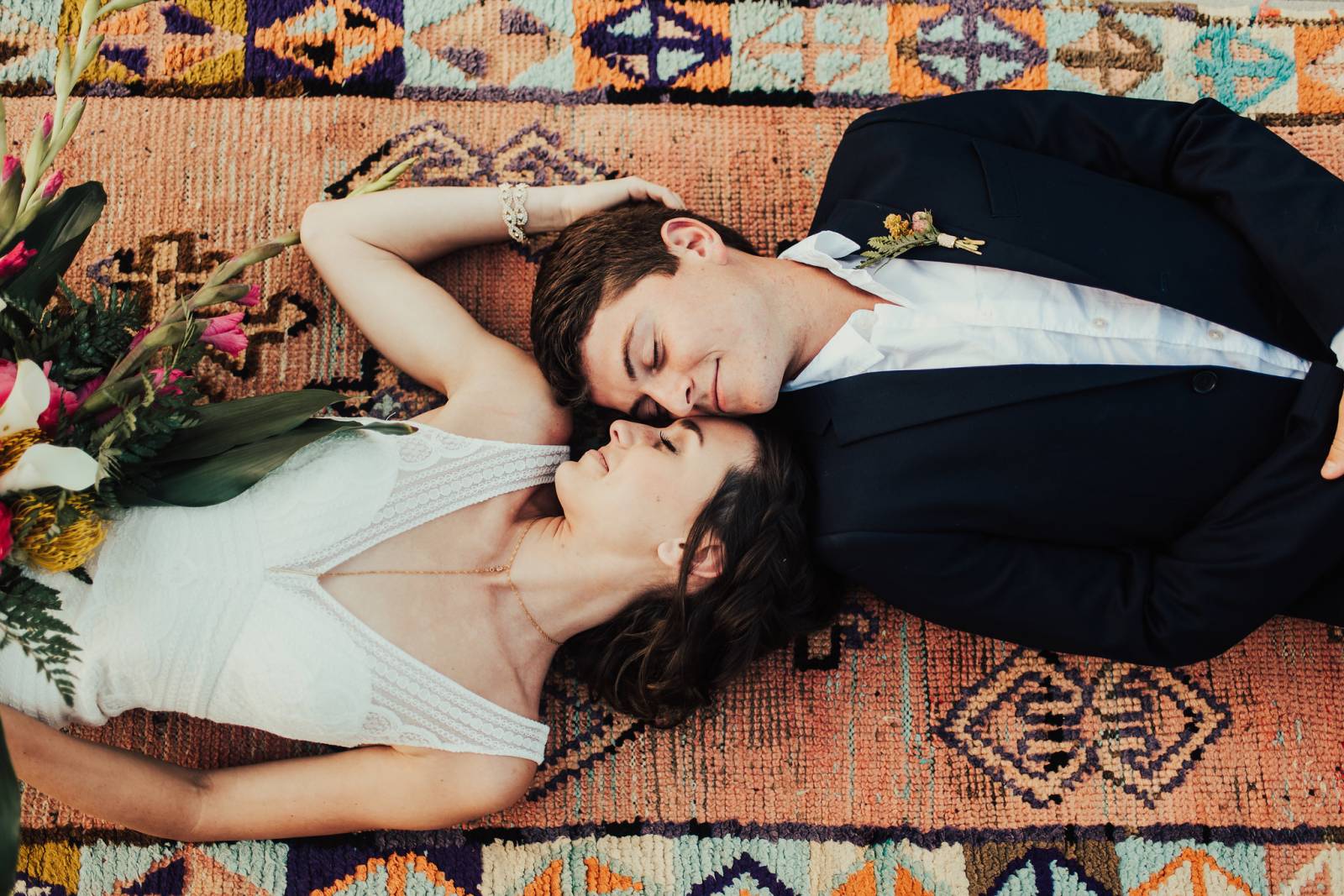 Sunday Funday Poolside Wedding (styled wedding)
5 wedding planning tips
from Samantha Josette Events